Shop the best products for health, healing and wholeness! Browse through my store of handpicked favorites to help you reach your goals, and live a healthy life. Email Cherie at Cherie@juiceladycherie.com if you have questions about products or problems with your order.
Please call for shipping outside the continental United States.
Welcome to The Trinity Wellness Shoppe…Happy Juicing!
Omega Juicer 8006 Nutrition Center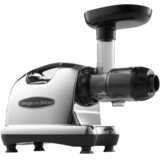 The Omega Model 8006 Nutrition Center is a dual stage-single gear, masticating juice extractor that will serve all of your juicing needs and much more. The two-stage gear (single auger) is exclusive to Omega. This unit is a "multiple use" appliance that actually does all of its uses very well. Most appliances that are built for more than one use tend to compromise one task or another. The Omega 8006 will juice wheatgrass and other leafy greens as well as all other vegetables and fruits. It will also make frozen fruit "ice cream," nut butters, and pasta. It is very quiet, compact, and easy to clean. I clean mine in 1 minute! Of all the juicers than can juice wheatgrass, this is my favorite.

The only difference between the 8005 (Cherie's Pick) and 8006 is the reinforced auger in the 8006.  It has a 15 year warranty.
FREE SHIPPING
$299.99